Chiropractor Elko for Relief and Healing
Unveil Your Best Life at Ruby Mountain Chiropractic Center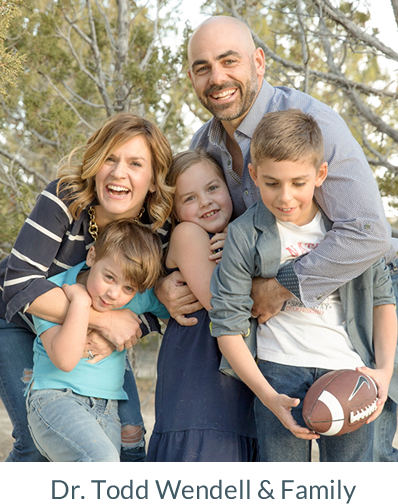 Whether you've been struggling with pain due to a chronic condition or have experienced an injury related to a sports or auto accident, we want to help at Ruby Mountain Chiropractic Center. Warm and friendly, Elko Chiropractor Dr. Todd Wendell provides patient-centered, customized care. He's passionate about helping practice members experience relief and healing and improve their lives. We enjoy a reputation in the community as the place to go if you want to find a solution to your health challenges.
Providing Help for All Ages
At Ruby Mountain Chiropractic Center, we see practice members of all ages. We can adjust everyone from a day-old infant to a 95-year-old with back pain. We use a variety of chiropractic techniques as well as cutting-edge therapies like cold laser with the K-Laser. We also offer Clinical Biomechanics of Posture® (CBP®) to help improve posture, balance, spinal alignment and restore essential spinal curves.
Staying Involved in Elko
At Ruby Mountain Chiropractic Center, we're committed to not only providing exceptional chiropractic care to our practice members but also staying involved in the community. Drs. Wendell are members of the Elko Area Chamber of Commerce and Dr. Todd Wendell serves as the executive Director of the Elko Area Chamber of Commerce. Dr. Todd also serves as director for the Eastern Nevada Wrestling Association, is a board member and medical director for the Elko Junior Football League and serves as a team doctor for the Elko High School Football.
Dr. Marin Wendell is active in the community as well, as she sits on the board of the Elko Downtown Business Association. Dr. Marin Wendell started Everything Elko, a magazine specifically designed to help local small businesses get their message out.
Discover the difference that customized care from a chiropractor Elko can make in your life. Contact us today to schedule an appointment!